#SmallBusiness
By Tim Adler on Small Business UK - Advice and Ideas for UK Small Businesses and SMEs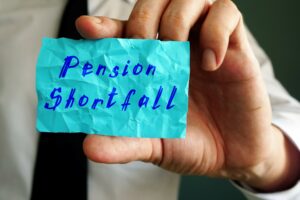 Businesses could have to find up to £34bn to top final-salary pension schemes as employees near retirement.
From October, the Government wants those businesses offering final-salary pension schemes – which pay staff a pension based on their final or average salary as opposed to how much they contribute – to switch to low-risk investments by the time
This leaves businesses facing a black hole of up to £34bn if they are to top up final-salary aka defined benefit pension commitments.
>See also: How to choose a workplace pension provider
It is thought around 6,000 UK businesses still offer final-salary pension schemes, according to the Pension Protection Fund, although the number is dwindling.
However, pensions consultant LCP warns that 200 companies could go bust if they have to meet these new requirements. (LCB was unable to say how many SMEs offer final-salary or Defined Benefits schemes.)
The £34bn figure is based on official estimates buried in one of a series of recently published The Pensions Regulator consultation documents, according to LCP.
>See also: How salary sacrifice can save thousands in workplace pension costs
A key challenge for firms that offer defined-benefit pension schemes is that their scheme may not currently be funded at the level Government wants from October. And they may not be funded at that level by the time the scheme becomes mature either. Employers could find themselves receiving demands from their pensions providers running into tens of billions of pounds
Michelle Wright, partner at LCP, said that the Government needs to be open about the potential impact of these new funding rules, which could see employers facing demands from pension schemes collectively running into the tens of billions of pounds over the following five years or so.
Wright warned that unless employers are given time to adjust, some businesses could find they simply cannot afford what they are being asked for and could be at risk of insolvency, "which is an outcome in no-one's interest".
More on pensions
Workplace pension schemes: What you need to know
The post Businesses face £34bn pension black hole appeared first on Small Business UK.
via https://www.aiupnow.com
Tim Adler, Khareem Sudlow