#Tech
Foundr Magazine publishes in-depth interviews with the world's greatest entrepreneurs. Our articles highlight key takeaways from each month's cover feature. We talked with Phil Hutcheon, founder of Dice, about starting Dice and disrupting the live event industry for the betterment of fans and artists. Read excerpts from that in-depth conversation below. To read more, subscribe to the magazine.
—————
If you've ever bought a ticket online to see your favorite band, you've probably experienced the moment of dread when you reach checkout. As you enter your credit card info, the total price to go to the show absorbently increases from the face value. All due to the mysterious "processing fee." Is it worth spending a week's worth of groceries to see a concert?
That's why Phil Hutcheon started Dice, a platform for fans to see the musicians they love in the most hassle-free way possible.
"People tend to hate the ticketing companies, so what if we created a brand that people actually loved?"
Since its launch in 2013, Dice has raised more than $100 million in capital, hired more than 380 workers, and expanded its services globally. From testing the business idea with a fake company to phone calls with Kayne West, Hutcheon built Dice into a commerce engine for the music industry.
"Our growth today, which is incredibly fast, is because of all those lessons we learned in the early days and all the things we got wrong but with less expectations," Hutcheon says.
Hutcheon says he normally doesn't do interviews. He enjoys cultivating a stage rather than being the center of attention. It's why Hutcheon's career is a series of decisions of doing things differently and why we're lucky to have a candid conversation with him.
Opening Act
"Now, looking back, it seems very logical, but at the time didn't make any sense whatsoever," Hutcheon says.
A childhood obsession with computers and music seems like a natural backstory for the co-founder of Dice. Still, Hutcheon started his career working for a global financial services company helping set up pensions. However, his love of music never stopped, and Hutcheon still spent his weekends DJing and working with local artists in Sydney.
But his day job was taking priority over his passions. He was so successful in his role that his company offered to send him to New York City to get his MBA to further his finance career. The decision seemed obvious.
"Thanks for the offer, but I'm going to quit and go into the music industry," Hutcheon says.
His company graciously gave him a year sabbatical assuming he would fail and come crawling back. And maybe they had a right to think that. Hutcheon didn't have a clue where to start his career in music.
"When you're starting a company or anything else, people always tell you it's not going to work."
In 2004, he met the founder of his favorite record label, Modular Records, and they teamed up. That's when Hutcheon's crash course into the music industry began.

At the time, Modular Records was a small Australian company with little influence in the industry. But after some of their early signings, like Cut Copy, broke out in the dance-pop scene, the Modular sounds started to be recognized globally. Hutcheon organized legendary record parties in London, Paris, and New York City, growing the reputation of Modular.
"I didn't know any of the rules," Hutcheon says. ​​"We were always thinking differently because we were super naive in how to do things."
Hutcheon left Modular in 2008, following their buyout by Interscope Records. Staying in London, Hutcheon made the natural transition to artist management and started a firm called Deadly People. While working with musicians, he noticed, again and again, the absurd pricing of tickets that caused pain for fans and artists alike.
"Everyone kept telling me, 'that's just how it is,'"
"I didn't feel like anyone was solving anything for fans," says Hutcheon.
Eventually, Hutcheon decided to test a ticketing model with a fake business.
Rolling the Dice
Hutcheon wanted to know how much fans care about the ticketing companies. So he set up a small show in London for the indie rock band Wolf Alice and created a ticketing website under the pseudonym tixcy.com. The fundamental feature was no extra fees.
Tixcy.com was a hit for the fans and the artist, so Hutcheon and his small team spent six months creating a platform that he could feel confident bringing to investors.
"Talk about bootstrapping … I put everything from Modular into Deadly and everything from Deadly into Dice," Hutcheon says.
The other live music problem he wanted to solve was the high cost of secondary markets and scalping. Essentially, how can you ensure that people don't buy in-demand tickets and turn them over for profit when they aren't fans of the artist?
That's how Dice became one of the first platforms to adopt mobile ticketing through an app.
"Now it seems like quite common sense, but at the beginning, people said 'no one is going to download an app,'" Hutcheon says.
Through two-factor authentication and accurate user data, the app helped secure transactions and thwarted scalpers taking advantage of the traditional paper ticket model.
"Live event data traditionally has not been used particularly well," Hutcheon says.
Some of their earliest hires were data scientists to ensure their information was accurate, usable, and secure for customers. Dice also built a waiting list function in their app that offers fans a first-come, first-serve model if a show sells out or a new show opens in a location. The waiting list also helps the artists better understand the markets they serve and not overload their tour stops in geographical areas.
"It's never good enough to be marginally better."
But before Dice could become an ally for music fans and artists, Hutcheon needed to raise capital.
Building the Band
"The initial year or two, there were definitely more skeptics than champions, but those champions helped get us through the sketchy times."
Fundraising for Dice was slow at first. But two moments in their initial year surged its growth. First, Dice signed an exclusive show deal with electronic music duo Disclosure. Second, in September 2014, Dice scored a contract with a music event called Culture Clash and sold 12,000 tickets.
"It's kind of putting yourself in the most stressful situation," Hutcheon says. "That stressful moment just really rapidly gets your tech stack together."
Dice initially was exclusive to London, but it slowly grew across England and beyond. One of their innovative features is the discovery feature that connects to Spotify and Apple Music to recommend local shows played by artists similar to your music genre history.
"We thought it would be successful, but it took 3.5 years to get enough data to get recommendations," Hutcheon says.
The steady drip of funding continued alongside Dice's growth, but the "nos" were far more frequent.
"Every time someone said 'no' to Dice, that really built up fuel."
The patience paid off.
Artists like Adele and Kayne West began using the platform for their events. West, specifically, was incredibly hands-on in planning album-launch events and was regularly on the phone with the team in the hours leading up to the event launch.
Although Hutcheon says the early days of raising capital were frustrating, the team confidently found their product-market fit.
"Now we know exactly how to allocate the capital."
Last year, SoftBank Vision Fund 2 invested $122 million in Series C funding. Hutcheon says the investment will help them expand their reach to markets and continue to develop their virtual event arm that allowed Dice to stay relevant during the Covid-19 pandemic when most venue doors were closed.
"Instinctively, I knew we needed to find good people to contribute to the business," Hutcheon says. "The best investors look at their product beforehand."
Hutcheon says they look for investors that do their homework on Dice and are naturally curious. For example, during one meeting with a seemingly reputable investor, Hutcheon asked about a previous company they'd funded.
"What decisions at the board level did you make that impacted this business?"
The investor couldn't think of any.
"Character is very important for us … you need to have people that have high conviction and high tolerance," Hutcheon says.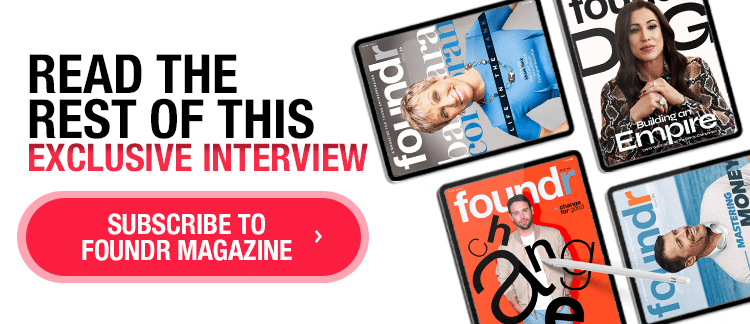 The post Unplugging Fees and Amplifying Fans with Phil Hutcheon of Dice — Exclusive appeared first on Foundr.
via https://AiUpNow.com July 29, 2022 at 10:23AM by Luke Ferris, Khareem Sudlow,